Mahatma Gandhi Jayanti, 2nd October.
Gandhi Jayanti is a national holiday in India celebrated on 2nd October. This day is celebrated in the honor of the birthday of the Father of the nation, Mohandas Karamchand Gandhi, popularly known as Mahatma Gandhi or Bapuji. … He started the 'Satyagraha' (non-violence) movement for the Indian freedom struggle.
Mahatma Gandhi Jayanti, 2nd October, Indian freedom fighter.
Download
Download
Download
Download
Why Gandhi Jayanti is celebrated on 2nd October?
Mahatma Gandhi: On 2nd October, the birth anniversary of Mahatma Gandhi is celebrated. Bapu, who gave freedom to the country on the basis of non-violence movement, is still alive in the hearts of the people.
Download
Mahatma Gandhi Jayanti: The birth anniversary of Father of the Nation Mahatma Gandhi is celebrated across the country with great pomp on 2 October. Various programs are organized in schools and offices across the country on the occasion of Bapu's birthday. Bapu's full name was Mohandas Karamchand Gandhi. Bapu, who gave freedom to the country on the basis of non-violence movement, is still alive in the hearts of the people. Gandhi ji also went to jail many times for the independence of the country. Gandhiji was born (Mahatma Gandhi Birthday) on 2 October 1869 in Porbandar, Gujarat. Mahatma Gandhi went to London to study law and become a barrister. He obtained a barrister's degree after studying in London. When Gandhiji returned to India, the situation in the country affected him greatly. After which he fought a long battle for the independence of the country. Today we are free due to Gandhiji's efforts.
Download
Why is Gandhi Jayanti celebrated on 2nd October?
Gandhi Jayanti is celebrated every year on 2 October. Gandhiji was born on 2 October. This day is also celebrated as World Non-Violence Day. Gandhi ji is known worldwide for his non-violent movement and this day is celebrated to honor him globally. Gandhiji used to say that non-violence is a philosophy, a principle and an experience based on which it is possible to build a better society.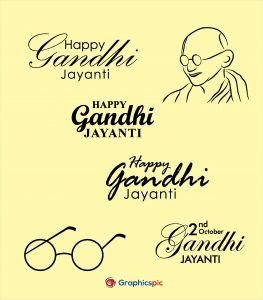 Download
How is Gandhi Jayanti celebrated?
On the occasion of Gandhi Jayanti, people pay homage in front of the Gandhi statue in Rajghat, New Delhi. This day is a national holiday. Prayers are held at the Samadhi of Mahatma Gandhi in the presence of the President and Prime Minister of India. The celebration of Gandhi Jayanti is celebrated with joy in all schools and offices.
5 interesting things related to Mahatma Gandhi
Download
Mahatma Gandhi went to London to study law and become a barrister. He obtained a barrister's degree after studying in London, but was unsuccessful in the first debate in the Bombay High Court.
Steve Jobs, founder of Apple, one of the world's largest mobile companies, wore round glasses to honor Gandhiji.
There are more than 50 roads in the name of Mahatma Gandhi, except for small roads in India. Also, there are about 60 roads abroad in the name of Gandhiji.
Mahatma Gandhi was nominated for the Nobel Prize 5 times, but he did not receive the Nobel Prize even once.
Bapu used to walk 18 km daily.
Significance of Gandhi Jayanti and celebrating the birth of a great leader
October 2 is celebrated as the birth anniversary of Mohandas Karamchand Gandhi, most commonly known as Mahatma Gandhi. It is marked by prayer services and tributes all over the continent, including his memorial in New Delhi (Raj Ghat) where he was cremated. Usually, his favorite religious song (bhajan), Raghupati Raghav Raja Ram is sung in his memory. A national holiday is observed throughout India and the UN General Assembly declared this day as the International Day of Non-Violence on 15th June 2007.
Gandhi, a barrister practicing in South Africa fought against the racism faced by the natives based on their skin shade and for their civil rights. Upon returning to India in 1915, he, along with the peasants and farmers launched a protest against the excessive land tax and discrimination that they faced by the British. It was in 1921 that he took leadership of the Indian National Congress and coined the term Swaraj, meaning self-rule. The path that Gandhi took for the independence of India during the freedom struggle was that of non-violence. He led many movements that shook the British regime without any force or coercion. The Quit India Movement, Dandi March, Civil-Disobedience Movement were few of the many non-violent protests that Gandhi headed, which shook the British reigns. He advocated for a free India that practiced religious pluralism. The partition of the subcontinent into India and Pakistan led to brutal atrocities being committed on both sides of the border. Gandhi, in his seventies at that time, sat on a number of fasts unto death (anshan) to stop the religious violence. He even advocated to pay out some cash assets to Pakistan, which many people perceived as being too pro-Pakistan and pro-Muslim. Eventually, this became one the major reasons for his assassination by Nathuram Godse, a Hindu nationalist in 1948 who fired three bullets into his chest while Gandhi was on his way to a prayer meeting accompanied by his grandnieces. His memorial at Raj Ghat which is a black marble platform bears the epigraph Hey Ram. These are widely believed to be his last words after he was shot.
The contribution of Mahatma Gandhi to world politics and also to world peace is immense. Netaji Subhash Chandra Bose bestowed him with the title of the Father of the Nation in 1944 when he addressed him as such in his condolence message to the Mahatma on the demise of his wife, Kasturba Gandhi. His acts inspired many movements for civil rights and freedom all across the world. Many eminent world leaders and personalities including Nelson Mandela, Martin Luther King Jr., Dalai Lama, John Lennon and Albert Einstein considered Gandhi as their ideal. It was not only freedom from the British that Gandhi wanted for a free India, but it was also freedom from its own internal conflicts, social issues and taboos. His efforts to liberate the society and its people was quite relevant and modern at that point of time in history and his dream of an India, free of casteism, religious based differences and gender inequalities paved the way for the modern India of the 21st century.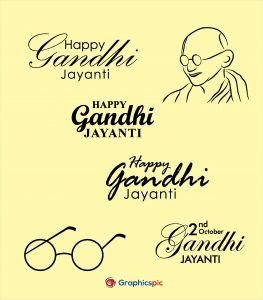 Download